Leading The way,
Together
Throughout the year, the Standing Committee of the HKUST Convocation continued to support the HKUST community, promote entrepreneurship, and act as a bridge between the University and the public.
Convocation Standing Committee
Committee members are all actively involved in their various roles, and regularly put on events that contribute to the University's initiatives. Chairman Alvin Lam hosted two workshops for students, helping them refine their business ideas and sharing his start-up journey at an E-Commerce Challenge in Seoul, co-organized by Uptown and the HKUST Entrepreneurship Center. Other members showed their dedication by, for example, serving on the selection panel for the Technopreneur Competition and an entrepreneur fund.
They also attended the inauguration of the City University Convocation's 6th Standing Committee, showing their support and sharing their experiences from the HKUST Convocation with the City University community.
The Convocation partners with the Development and Alumni Office to co-organize various programs from time to time, such as alumni entrepreneur sharing events, the "Survival Kit in Banking" panel for current students, and more.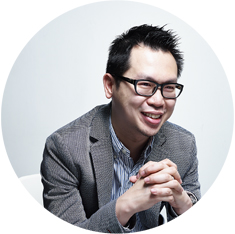 ALVIN LAM
CONVOCATION CHAIRMAN
Managing Partner, T12M Ventures
Founder, PacificLink Group
Alvin founded the PacificLink Group in 1998. Today, the company is a leading digital agency providing innovative and professional web, mobile, and social media services to many international brands. It has won more than 100 creative awards and in 2015, was acquired by Accenture. His numerous stories about entrepreneurship have been featured as Harvard Business Review cases and are now used as teaching materials for MBA and EMBA classes globally.
In 2012, Alvin won the Outstanding ICT Achiever Award. He also received the Top Outstanding Designer Award 2015 and Capital Leaders of Excellence Award 2016.
Started in 2006, T12M Ventures is an angel investor and accelerator fund for early stage companies. As managing partner, Alvin draws on his expertise in digital marketing, mergers and acquisitions, and growth hacking strategies to advise ICT companies on how to scale up quickly and robustly. He also supports many start-ups and technology firms himself, as an advisor and angel investor, and serves as director of the Hong Kong Business Angel Network.
To bring the technology start-up community together, Alvin launched an educational portal, 18Hall.com, sharing market updates and resources with entrepreneurs in Hong Kong. He is often invited to speak as a guest lecturer at different universities and to judge digital start-up competitions and events. He also serves as advisor for several university academic departments and as a council member at HKUST.
In 2016, he made a generous donation to the HKUST Alumni Endowment Fund (AEF), which helped establish the Student Start-up Grant. Thanks to his remarkable support, students with creative ideas now have a greater chance of turning their dreams into reality.